Just came back from the AIICPRIMS Lyon meetings. It was a two-fold series of events. First batch was open to any conference interpreter or even would-be interpreter as students were present also, in large numbers. It was called les rendez-vous de l'interprétation and focused on acquiring knowledge, tools and awareness regarding the trade we're in.
I appreciated in particular the magical tools presented by Josh Goldsmith Geneva-based conference interpreter UN+EU accredited who cofounded tech for word, an association to help usher interpreters into the digitized world and make them embrace smart tools, apps and tricks to get better at interpreting, prepping assignments or sharing personal resources with fellow interpreters nurturing our community.
I also learnt a great deal about the history of the AIIC association and why it's relevant today to become a member of this prestigious institution. Promoting our work, defending our core interests make tremendous interest at the time where some indelicate providers intend to pay us per minute and let us deal with all tech issues online. Someone or some professional association need to wage war on these unacceptable behaviours.
Why was it so important for me to participate to these encounters?
Because I feel the need to address more and more these business issues related to conference interpreting and unfortunately cannot find a way to vent and/or to analyze the difficulties I face in my daily practice in Nice, Cannes Monaco or even Paris.
So, these 3 days in Lyon were well spent talking but mostly listening, remember we're interpreters so were supposed to do all of these at the same time! Even things I did know about were worth it. For instance, some of the tech tools presented by Josh, above mentioned, were also heavily quoted at Geneva Conf 100 but here it was different because of the hands-on approach and because I had been aware of their existence before. I discovered that these apps, be it on the Apple or PC environment could be used to save time on preparing assignments but could also be called life-savers without exaggeration. We all have been let to our own devices on assignments without any sort of documentation and suddenly like 5mn before the beginning of the assignment some project manager or assistant comes up with dozens of pages of screeners or some forgotten White Paper or any other relevant files they of course could have sent beforehand… in a nutshell, if you can annotate these pdf files, imagine they're pdf files 😊 then pdf annotator e.g. could help you scribble right away on the file. Same thing if you can use a glossary you created before on interpreter's help or interpret bank or use the extracting tool, provided you have a few minutes left before it's your turn to speak.
Difference between retrieving unknown tools online by yourself and being presented with these tools by some seasoned colleague who uses them on a daily basis?
Changes everyting! When fellow interpreters are willing to share their toolkit it seems easier and desirable to adopt them also. Plus you understand right away how they could serve a specific purpose but also the natural current limitations of the above mentioned tools. There were also talks about the need to produce feedback on our end as final users to help the software/web application designer come up with a more refined product on the next upgrade version.
Live talk versus virtual talks
Because it's lovely to chat with colleagues online, be it on twitter, LinkedIn or any other social media platform but it will never replace shaking hands or sharing lunch or even sharing a booth with them as most of these AIIC professional encounters are also interpreted by colleagues volunteering to help those who don't master the language used by the speaker on the floor. For instance, we had a high profile scientist talking to us about artificial intelligence and she spoke fast and it was a blessing for a lot of us terps to have other terps hatching up the lingo and making it more intelligible. It also helps a lot to be in the audience's shoes for once and understand how difficult, heavy and tiresome it can be to bear with headsets. As a friend of mine put it once we are momentarily disabled when we don't understand a language. So, we badly need assistance and it's great to receive some by talented coworkers in the booths!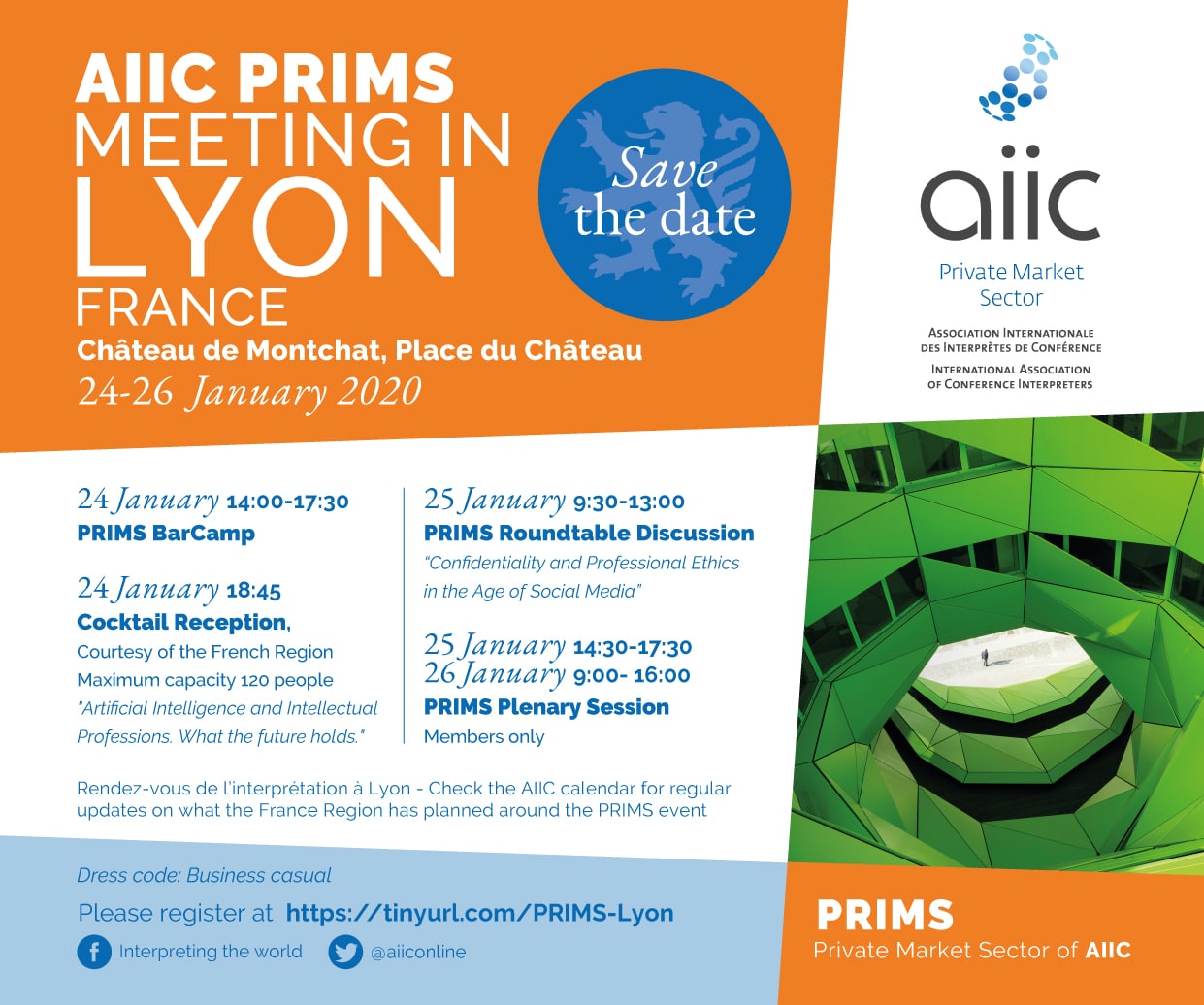 Joining AIIC: the international association promoting conference interpreting?
It is not a dilemma anymore at least for me. I would love to join the association. I am aware that with the surge of remote simultaneous interpreting platforms the need for a strong yet professional association to defend our interests is vital. As working conditions tend to deteriorate rapidly, safeguarding and protecting the quality of our work becomes more and more urgent for us but mostly for our clients and fellow interpreters even the ones not belonging to any professional associations. Also PRIMS primarily concerns Private Market interpreters so it relates to my own experience, it's my playground.
We cannot accept to be treated like chess pawns even if we were to be kings or queens! We are unique services providers and entrepreneurs and we should always remember this when it comes to pick up the phone and discuss a potential assignment offered by some random agency we never heard of. I am sometimes appalled to realize that the only question some of my colleagues ask themselves it whether or not they are available for the assignment dates. It struck me as I sometimes handle interpreting projects and have to describe the specs required by the mission. They often interrupt me with the only question finding grace to their eyes when is it on? Or a similar version, being is it confirmed already or just an option?
Can we afford to be this desperate? I might have accepted some assignments I should not have, like many of us here but now I know better. I taught myself to wait and ask more questions, I collected the most relevant issues for me and have a checkup list ready on my laptop just there to remind me not to rush accepting anything and everything.
Ps would love to have comments or feedback from those who also attended the AIIC PRIMSLyon 2020 meetings or any fellow interpreter who could further and expand the debate.